Auto Electrics Mobile Product Services Shropshire


Tel 01743 884888
Car |4x4|| Van and Light Commercial | HGV Truck & Trailer | Construction Plant
Vehicle Maintenance Inspection Autoelectrical & MoT Repairs Fleet Service Autoelectrical Parts
Autoelectrics Service Engineer Mobile Tel 07703 558610
Business Hours
Normal Hours: 08.00 hrs to 18.00hrs Monday to Friday | 08.30 hrs to 12.30hrs Saturday
24 hour emergency breakdown callout for out of hours ,Sundays, and Bank Holiday Monday subject to workload for breakdown cover.
Location and Service Area
Autoelectrical repairs and Vehicle Repair Mobile Service business with On site callout servicing
Shrewsbury (SY) Telford (TF) Shropshire county & Welshpool Mid Wales Region
Auto Electrical wiring
Autoelectrical wiring systems connect electrical and electronic vehicle components. Correct cable specification and good connections are essential.
Vehicle electrical breakdowns can have many linked causes including Loss of power supply, low voltage, excessively high voltage, Open circuit, Short circuit, high resistance, low resistance, which may have further effect on components.
Classic vehicle wiring
Classic vehicles often have basic wiring systems linking power supply to switch to component sometimes with relays and added circuit protection fuses. Problems can arise due to accesibility , age of components and lack of adequate circuit protection. A few anomalies can exist including system voltage, Positive earth wiring system, Insulated earth wiring systems. Starting systems with seperate starter switch ,solenoid, and motor. Dynamo charging systems which may be three brush type or two brush types and voltage regulation via external control. Ignition systems may include magneto, coil, or distributor with mechanical ignition advance and retard adjustment. Non Standard lighting systems can exist which may be acceptable due to date of manufacture.
Computerised Vehicle System fault diagnostics
Specialist Auto electrical fault finding mobile vehicle diagnostics & repair to vehicle wiring, electronic and mechanical systems including Car Van and Truck diagnostics:
ABS Anti lock braking system diagnosis and repairs
Electronic Stability ASR, ESP,
Air Conditioning Climate control electronics, pressure testing, repairs, regas
Alarm Immobiliser and Vehicle Security systems
Diesel Engine Management Electronic Diesel Control (EDC)
Common Rail Diesel Fuel Injection (CRDi,CDi, HDi,TDCi,TDi) Injector recode
DPF Regeneration, EGR
Petrol engine fuel injection and electronic ignition systems
Transmission driveline , Suspension, Steering , and Braking system service repair
Vehicle Body Control Module BCM CIM VIC VCI UCH
Comfort / Convenience Module
Vehicle hydraulic systems
Safety Restraint System SRS Airbag
Truck & Trailer ABS EBS,
Test equipment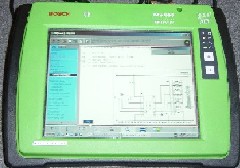 A range of test equipment may be used during the test and repair process. Professional vehicle computer diagnostic equipment communicates with vehicle electronic control units to scan data from auto electrical control systems. Product support from manufacturer technical information, vehicle wiring diagrams and vehicle systems training assists automotive electrical and mechanical servicing and fault finding by vehicle technicians to locate faults efficiently. Benefits include fleet downtime reduction and increased customer value for money during breakdown repair process.
Vehicle Diagnostic equipment operating manufacturer dedicated software running on diagnostic platforms includes Bosch, Lucas, Omitec, Texa, Sagem ,Snap On, Sun ,SPX , and Nexastexch.
Diagnostic Fault code read, component signal test & cause diagnosis. Control unit coding and component test actuation
Fault Codes
Many vehicle electronic systems can generate fault codes when a problem arises. Test equipment is used to retrieve fault code data.
Faults present on vehicle computer ecu systems are often first noticed by the driver when a dashboard warning light illuminates on or by Mot test fail (see our diagnostics help pages at www.autoelectrics.net)
Rotating Electrics
Alternator & Vehicle charging system fault diagnosis. Automotive battery test facilities. Locating of wiring short circuit and battery current drain checks.
Battery charge warning light fault test and repair
Callout to vehicle starter motor faults.
Engine starting problems.
Starter motor bench test facilities
Vehicle Lights Supply - Wiring circuit repairs - Installation.
Headlights, Side lights, Brake lights, Direction Indicators, Reverse lights, Rear fog lamps, wiring. Supply of Beacons , Worklamps, Tractor Headlamps, Reversing Lamps, Rear Fog Lights, Truck & Trailer Tail lamps, Tail lift lamps ,Position Marker lamps, LED lamps. Number plate lamps, Bulbs. Reflectors, Marker plates
Installation of car security alarm & immobiliser systems
Car breakdown may be caused by aftermarket car alarms or immobilisers, possibly fitted by a previous owner. Faulty aftermarket alarm or immobiliser systems which may be causing a no start breakdown can be removed or bypassed,with prior customer authorisation and customer notifying vehicle insurer.
Wiring looms
Vehicle Wiring Loom Prototype, manufacture,installation. General testing and repair of wiring loom harnesses for specialist vehicles and van conversions.
Autoelectrical products and component supplier
Classic vehicle wiring loom installation, testing and repair
Engine repairs & Engine Diagnostics
Engine diagnostics on petrol and diesel engines for cutting out, fuel injection faults, misfire, knocking, noise, excessive exhaust emissions , mechanical failure.
General mechanical repairs
Service & Inspection
Mobile Vehicle Servicing in Shropshire , Fleet Preventative Maintenance Inspection, Contract Maintenance,
Qualified MoT tester for MoT Test preparation of Cars and Commercial vehicles.
Vehicle Air Conditioning repairs Shropshire
Trained service engineer and FGAS Class 1 Certified Refrigerant handler see our aircon page for further info. Mobile AC Refrigerant charging Regas and recovery.
Plant and machinery specialist services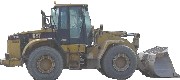 Plant and machinery specialist services at www.autoelectrics.net include LOLER examination of specialist mobile lifting equipment. Fault diagnostics and wiring repairs to construction vehicles, earthmoving & site excavation equipment, wheeled loaders ,360 excavators, telehandlers, quarry plant including diesel engine power units on quarry crushing and screening plant powerscreen and mobile conveyors, concrete pumping plant, wood shredders, engine driven waste recycling and processing plant, materials telehandlers and forklifts, farm tractors and agrimachines, municipal waste collection trucks, groundcare machinery ,Fault tracing on electrically controlled hydraulic systems on mobile plant & machinery. Breakdowns attended on site if accessible.

Diesel MMA Mobile welding equipment up to 400 Amps for on site plant repairs. Also Mig welding equipment to 250A
Specialist services to Local authority and Utilities providers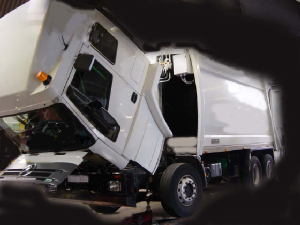 Vehicle and Plant Breakdown repair services supply to Local authority and waste recycling contractors
Vehicle Hire Companies
Environmental maintenance equipment breakdown repairs
Commercial Vehicle & Municipal Vehicle
Auto electrical & Hydraulic repairs to Refuse Vehicle waste compactors including Norba RL35 , Heil Powerlink, Ros Roca, Semat, Schorling, Dennis, and Terberg TCA-Del Binlift gear. Allison Wtec auto transmission.
Specialist autoelectrical services to haulage industry contractors
Fleet contract repair and Specialist auto electrical services to commercial vehicle operators of van truck and bus. Specialist autoelectrical fault finding on electro hydraulic systems of Tipper tipping gear , Skip loader, Road Sweeper, Refuse compactor, hiab crane, Tail lift. Rigid, Box van, Trailer, ABS, EBS, electrics
Service Region for Auto electrical & Mechanical
Location
Rurally based near Shrewsbury Shropshire, UK location enables fast access to A458, A5, M54, and Midlands road network for mobile workshop service support technicians to reach vehicle breakdowns in Shrewsbury, Telford, local areas. Service engineers area covers Shrewsbury ,Telford and Wrekin, Shropshire, West Midlands, Welshpool & Mid Wales.
Callout to other UK areas available to account customers.
On Site Support
Auto electrical engineering, Vehicle Diagnostics, Wiring fault finding, and general fleet breakdown repairs are completed on site if possible for convenience and often saving the cost and hassle of vehicle recovery.
Shrewsbury Town Areas: Castlefields,Copthorne,Ditherington,Emstrey, Gains Park, Greenfields,Harlescott,Heron Gate, Kingsland, Meole Brace Village,Monkmoor, New Park Farm,Radbrook,sundorne,Sutton Farm,
Shropshire areas : Acton Burnell,Alberbury,Bayston hill,Berrington, Condover, Church Stretton, Craven arms,Cressage, Condover,Crew Green,Dorrington, Halfway house,Middletown,Nesscliffe,Ludlow,Ryton,Uppington,Uffington,Westbury, Yockleton, Telford and Wrekin, Wellington, Telford ,Newport , Hodnet ,High Ercall,Market Drayton,Much Wenlock, Wem, Whitchurch,Whixall,Welshpool , Bridgnorth ,whether at home,hotel,shopping centre or work, our Mobile service can come to you to fix the car , van, 4x4 , truck,or plant providing convenience and often saving the cost of a breakdown recovery service.
*All services are provided subject to availability
Parts and Components
Parts and components distributed UK nationally by mail order to Motor trade , garages, fleet workshops, motor factors and retail public in conjunction with our approved suppliers.